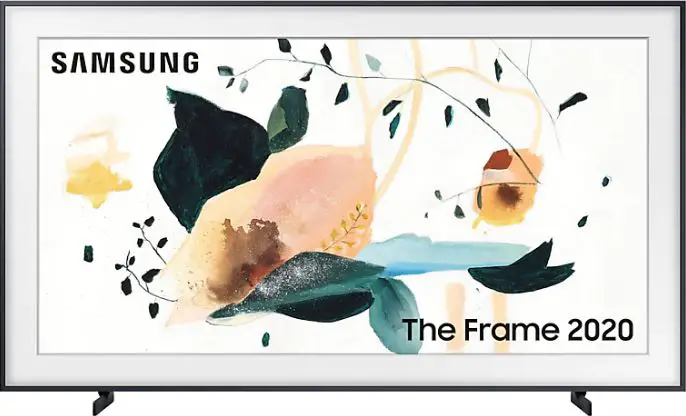 Die The Frame-Fernseher von Samsung sind eine Reihe von Fernsehgeräten im Bildstil. Fernseher haben Überlagerungen, die am Fernseher angebracht sind und den Bildrahmen imitieren. Wenn der Fernseher ein statisches Bild aus der Galerie zeigt, scheint ein Bild an der Wand zu hängen.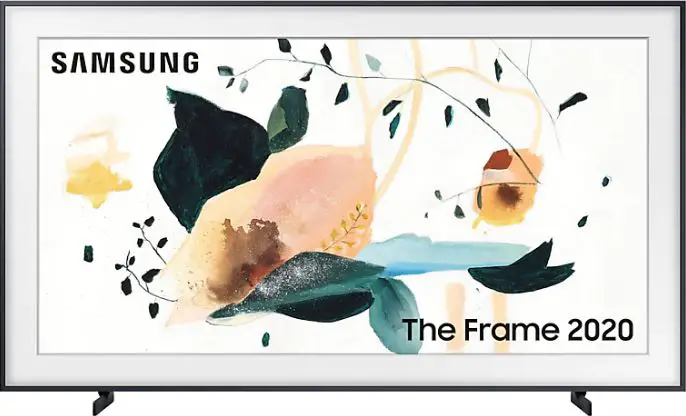 Im Jahr 2020 sind TV-Modelle für Nordamerika erhältlich. Europa Deutschland GQ75LS03TAUXZG, GQ65LS03TAUXZG, GQ55LS03TAUXZG, GQ50LS03TAUXZG, GQ43LS03TAUXZG, GQ32LS03TAUXZG
Technische Daten für The Frame 2020-Fernseher
Detaillierte Spezifikationen finden Sie in der Tabelle. Sie können sie am Ende des Artikels einsehen. Wenn wir jedoch die technischen Parameter berücksichtigen, erhielten die Fernseher im Jahr 2020 neue Bildschirme. Samsung hat die Produktion neuer QLED-Bildschirme mit verbesserter Farbwiedergabe durch Hintergrundbeleuchtung mit zwei Arten von LEDs gestartet. Beachten Sie auch, dass die Anzahl der im Jahr 2020 erweiterten Modelle ein Modell mit einem Bildschirm von 32 Zoll hinzufügte. Der Fernseher verfügt jedoch über 32 Zoll, einen Bildschirm mit Full-HD-Auflösung und eine maximale Bildrate von 60 pro Sekunde. Fernseher mit Bildschirmen der Größe 43 und größer unterstützen eine Bildrate von 120 pro Sekunde.
Unterschiede zwischen den Fernsehgeräten The Frame 2020 und The Frame 2019
Zusätzlich zu den Bildschirmen gibt es keine besonderen Änderungen an den technischen Parametern. Die Anzahl der USB-Anschlüsse wurde im Jahr 2020 reduziert, jetzt gibt es nur noch zwei davon. HDMI-Anschluss Standard 2.0. Die Rahmenfernseher dienen als dekoratives Element und als Fernseher. Und nach der Idee von Samsung sind neue technische Innovationen für QLED-Fernseher im normalen Format besser geeignet. Obwohl 2020, sind dies neue Bildschirme und eine neue Lautstärke auf Fernsehgeräten.
Detaillierte Spezifikationen der Fernseher The Frame 2020 und 2019.
|   | The Frame 2020 only 32LS03T | The Frame 2020 43LS03T 50LS03T | The Frame 2020 | The Frame 2019 |
| --- | --- | --- | --- | --- |
| | | | | |
| screen | | | | |
| Screen Size | 32 | 43, 50 | 55, 65 | 43, 49, 55, 65 |
| Style | Flat Panel | Flat Panel | Flat Panel | Flat Panel |
| Resolution | 1,920 x 1,080 | 3,840 x 2,160 | 3,840 x 2,160 | 3,840 x 2,160 |
| screen bit | 10bit (8bit+FRC) | 10bit (8bit+FRC) | 10bit (8bit+FRC) | 10bit (8bit+FRC) |
| type screnn | Quantum Dot | Quantum Dot | Quantum Dot | Quantum Dot |
| screen technology | VA | VA | VA | VA |
| Backlighting | N/A | Dual LED EDGE LED | Dual LED EDGE LED | EDGE |
| Dimming Technology | N/A | N/A | N/A | N/A |
| Stand Type (Color) | CHARCOAL BLACK | CHARCOAL BLACK | CHARCOAL BLACK | CHARCOAL BLACK |
| Bezel Width | Slim | Slim | Slim | Slim |
| Video | | | | |
| Motion Rate | 60 | 120 | 240 | 240 |
| refresh rate | 60 | 120 | 120 | 120 |
| Color | 100% Color Volume with Quantum Dot, PurColor | 100% Color Volume with Quantum Dot | 100% Color Volume with Quantum Dot | 100% Color Volume with Quantum Dot |
| HDR (High-Dynamic Range) | HDR | Quantum HDR 4x | Quantum HDR 4x | Quantum HDR 4x |
| Picture Engine | Quantum Processor 4K | Quantum Processor 4K | Quantum Processor 4K | Quantum Processor 4K |
| Audio | | | | |
| Dolby | Yes | Yes | Yes | Yes |
| Sound Output | 20W | 20W | 40W | 40W |
| Woofer | No | No | Yes | Yes |
| Speaker Type | 2CH | 2CH | 2.2CH | 2.2CH |
| Object Tracking Sound | No | No | No | No |
| Q-Symphony | No | No | No | No |
| Multiroom Link | Yes | Yes | Yes | Yes |
| Features | | | | |
| OS | Tizen 5.5 | Tizen 5.5 | Tizen 5.5 | Tizen 5.0 |
| Wi-Fi | Yes | Yes | Yes | Yes |
| Bluetooth | Yes | Yes | Yes | Yes |
| Smart Hub | Yes (incl. Sports, Music and TV Plus) | Yes (incl. Sports, Music and TV Plus) | Yes (incl. Sports, Music and TV Plus) | Yes (incl. Sports, Music and TV Plus) |
| Bixby | Yes | Yes | Yes | Yes |
| Digital Clean View | Yes | Yes | Yes | Yes |
| Ultra Black | No | No | No | No |
| ConnectShare | Yes | Yes | Yes | Yes |
| Closed Captioning | Yes | Yes | Yes | Yes |
| Game Mode | Yes | Yes | Yes | Yes |
| Eco Sensor | Yes | Yes | Yes | Yes |
| Mobile to TV - Mirroring, DLNA | Yes | Yes | Yes | Yes |
| Google Assistant | Yes | Yes | Yes | Yes |
| Alexa | Yes | Yes | Yes | Yes |
| Auto Channel Search | Yes | Yes | Yes | Yes |
| InstaPort S (HDMI Quick Switch) | No | No | No | No |
| Channel Guide | Yes | Yes | Yes | Yes |
| Ambient Mode | Yes | Yes | Yes | Yes |
| Auto Power Off | Yes | Yes | Yes | Yes |
| AI Technology | ? | ? | ? | ? |
| Apps Platform | Smart TV with Bixby Voice, Apps and Full Web Browser | Smart TV with Bixby Voice, Apps and Full Web Browser | Smart TV with Bixby Voice, Apps and Full Web Browser | Smart TV with Bixby Voice, Apps and Full Web Browser |
| Auto Motion Plus | No | No | No | No |
| Embedded POP | No | No | No | No |
| Anynet+ (HDMI-CEC) | No | No | No | No |
| V-Chip | Yes | Yes | Yes | Yes |
| TV to Mobile - Mirroring | Yes | Yes | Yes | Yes |
| USB HID Support | Yes | Yes | Yes | Yes |
| AI Upscale | No | Yes | Yes | Yes |
| Easy Pairing | No | No | No | No |
| Inputs & Outputs | | | | |
| HDMI | 2 | 4 | 4 | 4 |
| USB | 2 | 2 | 2 | 3 |
| Ethernet | Yes | Yes | Yes | Yes |
| RF In (Terrestrial/Cable | Yes | Yes | Yes | Yes |
| RF In (Satellite Input) | Yes Europe, No US | Yes Europe, No US | Yes Europe, No US | Yes Europe, No US |
| Digital Audio Out (Optical) | Yes | Yes | Yes | Yes |
| Audio Return Channel Support | No | Yes | Yes | Yes |
| One Connect | Yes | Yes | Yes | Yes |
| Samsung OneRemote | Yes | Yes | Yes | Yes |
| System | | | | |
| Digital Broadcasting | ATSC/ClearQAM US, DVB Europe | ATSC/ClearQAM US, DVB Europe | ATSC/ClearQAM US, DVB Europe | ATSC/ClearQAM US, DVB Europe |
| Analog Tuner | Yes | Yes | Yes | Yes |
| Accessories | | | | |
| Remote control | TM2050A(White) | TM2050A(White) | TM2050A(White) | TM1950C |